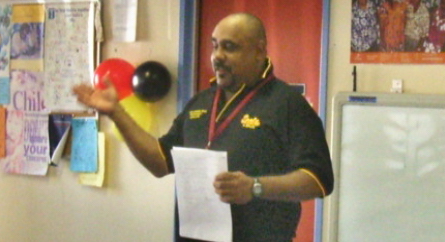 We are accredited trainers and have adult education qualifications. Our staff have professional facilitation experience at University, TAFE and the workplace. 
As professionals we adhere to high standards and ensure participants are supported and feel comfortable in our learning environment. We have completed courses by VETAB and understand the accreditation process.
Aboriginal Parenting Practices
The program is aimed at parents and carers of Koori kids, including aunties, uncles, mums, dads, grandparents, out-of-home carers, etc. The program is suited to groups between 10-20 participants.
Background
We have developed a parenting program that is culturally safe and sensitive and incorporates cultural practises, within a realistic environment. The program draws on the life experiences of the participants and our facilitators.
The program facilitators are Aboriginal parents who have experienced the challenges of parenting, they are able to relate to the participants and understand the whole life experiences of the participants. Aboriginal Parenting Practices, does not seek to measure or judge what a good parent is or to impose any assumed universal values. The program provides a supportive and comfortable learning environment, which emphasises health and safety.
Learning Outcomes
Participants will gain tools and strategies to better cope with the everyday challenges of parenting that include:
Behaviour
Health and safety
Environmental planning
Self-care (seeking support/professional help)
Delivery
4 half-day sessions are preferred delivery model however this is flexible depending on the audience requirements.
Cultural Connections Workshop
We believe that Cultural Awareness Training is better described as 'Cultural Connections'. Our aim is to establish and develop a stronger connection between two camps. The workplace being one and the community being the other camp.  Aboriginal Counselling has significant experience and knowledge around cultural safety in the workplace.
Cultural Connections facilitators are focused on cultural safety and sensitisation. The facilitators re-enforce that the purpose of the workshop is not to cause guilt but to provoke thinking.
Our workshop is intended to understand Aboriginal value and believe systems and how to better engage with Aboriginal communities. Aboriginal Counselling is mindful about the privacy and confidentiality of all participants and stakeholders.
Background
Cultural Connections is the first step to reconciliation and understanding Aboriginal people and issues. Aboriginal Counselling has experienced the benefits of gaining awareness and understanding cultural diversity. Cultural Connections is designed to help participants appreciate each other's diversity, value and believe systems which are bought into the work place.  Workplace culture is unique and through Cultural Connections we aim to merge two cultures/camps. By understanding both cultures, individuals, families and communities can grow together.
Topics covered are:
History since settlement
Identities and families
Racism
Communication
Aboriginal Health and Mental health
Learning Outcomes
Participants will:
Have a better understanding of Aboriginal history and people.
Have an improved understanding of Aboriginal issues.
Have some practical skills when working / walking with Aboriginal people.
Understand workplace expectations and how it can support staff.
Have improved ways to engage with Aboriginal staff and communities.
Be more culturally safe and sensitive
Delivery
One day.
Mental Health First Aid
The Aboriginal Mental Health First Aid is a course, which is designed to give people an insight to mental illness and how it impacts Aboriginal people. This course is to give participants skills to assist people who have been impacted by mental illness. Participants will learn how to assist people who are experiencing mental illness until professional help is available. The Aboriginal Mental Health First Aid course is delivered in a way that is culturally safe and ensures an individual's safety and confidentiality is respected.
Background
Aboriginal Counselling has over 25 years Mental Health industry experience in the public health and community health sectors. Aboriginal Counselling has supported many individuals, families and community that have been impacted by mental illness or conditions. By participating in this course, participants will become more confident and insightful when assisting people who have been impacted by mental illness/conditions. Aboriginal Counselling staff are qualified and experienced Mental Health clinicians.
The mental health first aid course is a course developed in 2000 by Betty Kitchener and Professor Tony Jorm with the aim to improve the mental health literacy of members of the Australian community. It is now auspiced by ORYGEN Research Centre at the University of Melbourne, Dept. of Psychiatry. The course is designed to be conducted in 6 modules; however, the delivery format is flexible.
Learning Outcomes
Participants will learn about:
Suicidal behaviours
Acute psychotic behaviour
Depression
Anxiety disorders and panic attacks
Schizophrenia
Bipolar disorder
Substance use disorder
Grief and Loss
Participants will be given a workbook, certificate of attendance, and will have knowledge where to seek professional assistance or get help from their local area.
Delivery
14 Hours – 2 Day Program
Program is culturally safe and flexible.
Mental Health Access
Mental Health Access is a program designed to build confidence in people who are supporting others who are impacted by Mental Illness. The program offers a thorough understanding of what Mental Health looks like in Aboriginal Communities both urban and rural. Mental Health Access equips workplaces and individuals with understanding about how to support someone who may have a mental illness.
Mental Health Access can be delivered in community, offices or on site like toolbox talks.
Background
Mental Health Access has been developed by Aboriginal Mental Health clinicians to improve outcomes for Aboriginal consumers who are engaging with mental health services.  The program was designed based on the knowledge and experiences of Aboriginal professionals in the mental health industry.
The program is established due to the challenges of Aboriginal people accessing Mental Health services.  Aboriginal Counselling aims to equip and empower Aboriginal people who may come into contact with Mental Health services and give them tools to engage so they feel confident when situations occur.
Aboriginal Counselling has delivered Mental Health Access to many employers who are striving to retain and support staff.  Mental health is becoming common in our communities and workplaces and we offer a realistic and thorough understanding of how this can impact the family, community and workplace.
Learning Outcomes
Participants will be confident when dealing with people that are impacted by Mental Illness.
And gain a better understanding of:
What is Mental Health
Mental Health Conditions
How Mental Health impacts the lives of people and the community
Health literacy
Where and how to seek support and help
Delivery
4 to 8 hours sessions are preferred delivery model however this is flexible depending on the audience requirements.