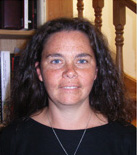 Libby Brown
Director/ Counsellor
Libby is a proud Biripi woman and is a Director and Counsellor at Aboriginal Counselling and has and lived in Western Sydney community for the last 40 years.
Libby has spent the last decade working in the fields of Health, Adult Education, Counselling and Community Development.
During the development her career Libby obtained a Bachelor Degree in Adult Education, a Diploma in Counselling, an Advanced Diploma in Business management, a Certificate IV in Training and Assessment, a Certificate IV in Aboriginal Family Health, a certificate in Clinical Supervision and numerous other accredited courses.
Libby's Counselling experience includes working with young people in the justice system, community services sector and drug and alcohol sector. Libby has extensive knowledge and understanding of drug & alcohol issues that impact the Aboriginal and Torres Strait Islander community. Libby also has extensive skills and knowledge of development and monitoring of Key Performance Indicators, project management and strategic planning. Libby's experience has equipped her with a versatile skill set to drive social change though community.
I'm here to answer any questions you might have about our services. Feel free to contact me using any of the following methods:
Email: libby.brown@aboriginalcounsellingservices.com.au
Phone: 0410 539 905